The salesmen will tell you that it is absolutely necessary to come and try the bike in store before your purchase, this is actually only a sales technique for them. In fact, it is totally possible to determine the size of your bike yourself, thanks to a bike size chart.
In this article, I've compiled the different possible methods to use to determine the perfect size for your bike. Keep reading and enjoy your future bike!
Before anything else, you need to know two important things in order to size your bicycle:
Your height
The length of your leg inseam
The height, I guess you know, for the leg inseam, take off your shoes and spread your feet slightly about 20 cm (about 8 inches) and measure the distance between the ground and your scrotum as explained on the picture below.
Method 1: Simplified Bike Size Chart – Bike Size Chart by Height
This method is known to be the easiest because it involves assigning you a bike size based on your own height.
Honestly, I don't think it's the most relevant method today but it can be used for information purposes. 
Indeed, when sizing a bike, the most important data is the length of your legs and not the size of your whole body.
This length is taken into account in the following method.
Method 2: Advanced Bike Size Charts
Here I have made different more precise tables allowing you to orient yourself towards a bicycle size according to your height and inseam length. 
Pay attention to the type of bike you want the dimensions of because for example, for the same person, the sizes of road bike or mountain bike will not be the same.
1. Mountain Bike Size Chart
Here is a first table concerning the mountains bikes (MTB).
2. Road Bike Size Chart
The following chart will help you with your future road bicycle.
Any questions on road bikes ? Check our road bike tire pressure calculator.
3. Hybrid Bike Size Chart
For city bikes or hybrid bikes, I recommend this table.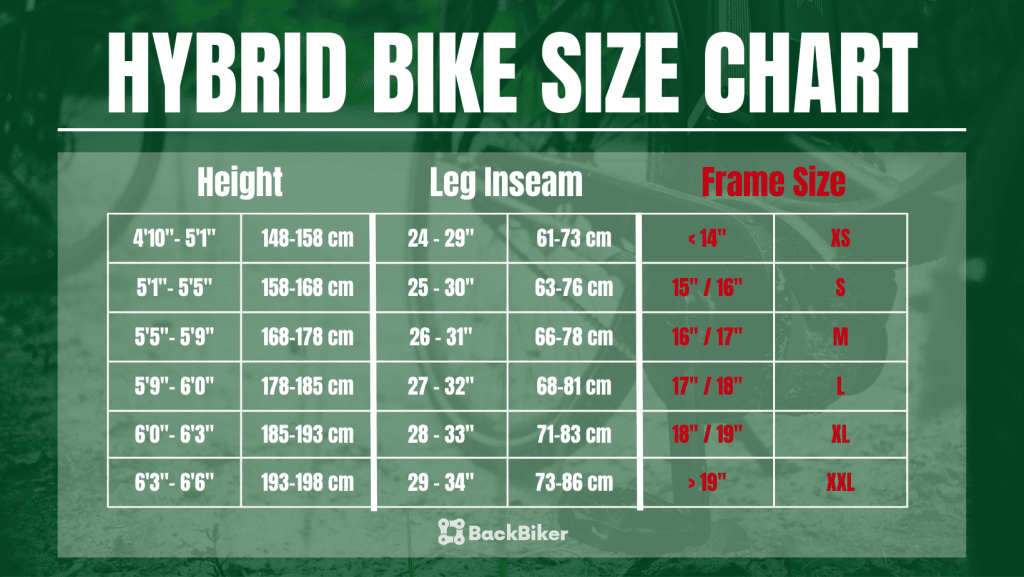 4. Kids Bikes Size Chart
If you are looking for a bike size for your child, you should find it here.
Method 3: Calculate Your Bike Size
This method has been used for many years, since the manufacturers have sometimes changed their way of doing things, I stress here that it is mainly for information purposes.
Take a calculator and thanks to your previous measurements, you should be able to calculate the size of the frame of your bike.
Again, be careful with the type of bike, the dimensions vary depending on the model.
Mountain bike – Leg inseam (cm) x 0.66 = Frame size
Road bike – Leg inseam (cm) x 0,69 = Frame size
Hybrid bike – Leg inseam (cm) x 0.685 = Frame size
Method 4: Amazon Bike Size Chart
The Amazon site also has a chart to determine your ideal bike size based on your measurements. It's always worth a look.
Method 5: Jenson USA Calculator
The JensonUSA site directly offers a calculation tool to determine the size of your bike, whether it's for mountain, road or even triathlon use. Take a look at it, there is always good information to take.
Frequently Asked Questions
A. What to do if the size is wrong?
If after your purchase, you realize that the size is not right, there are several things you can do.
Ask the vendor.
Check with the vendor to see if a return is possible, for a larger or smaller model depending on your needs.
Play with the saddle and handlebars.
It is always possible to modify the bike's saddle and handlebars. Changing these elements or their settings allows you to change your position on the bike and thus find the one that suits you. I invite you to read our article on the subject.
Also, don't forget that sometimes changing bikes takes a while to get used to, so take a few rides before making your final diagnosis. 
B. Which wheels for my bike ?
I will talk about the 3 main sizes here:
The 26 inches diameter
The 27.5 inches diameter
The 29 inches diameter
When mountain biking appeared in the 80's, the standard size for wheels was the 26 inches diameter. Around 2009, wheels with a 29 inch diameter started to be produced and an intermediate size quickly followed, the 27.5. But how to choose?
Here are the main arguments to make this choice
26" – Handling and vivacity
29" – Comfort and performance
27.5" – Compromise between the above characteristics
Also to keep in mind:
The 26" wheels are smaller, therefore lighter.
The 29″ wheels have a larger tire section which allows them to absorb more easily the imperfections and reliefs of the terrain on which you ride.
The 29″ wheels will be heavier but will have a smaller angle of attack, which means that it will be easier to cross obstacles (the angle of attack is the angle between the wheel of the bike and the ground). Also, you will be more stable on your bike due to the greater centrifugal force caused by the wheel.
Obviously, your practice, your morphology, your level and the terrain are very important parameters to take into account in your reflection and your choice. The choice of the size of the wheels of your bicycle should not be neglected and taking time to think about it is essential. 
For example, a mountain bike with 29 inch wheels will not be suitable for a small beginner because of the high center of gravity they bring.
Conclusion
I hope that with this guide you have all the keys to correctly choose the size of your bike in order to order it on the internet. The question "What size bike do I need?" has now no more secrets for you.
Don't forget that this guide is a general overview and that depending on the manufacturer, the range of sizes can vary (like clothes after all), I invite you to go on the manufacturer's website (for the brands you are interested in) to see if he shares a size detail himself.